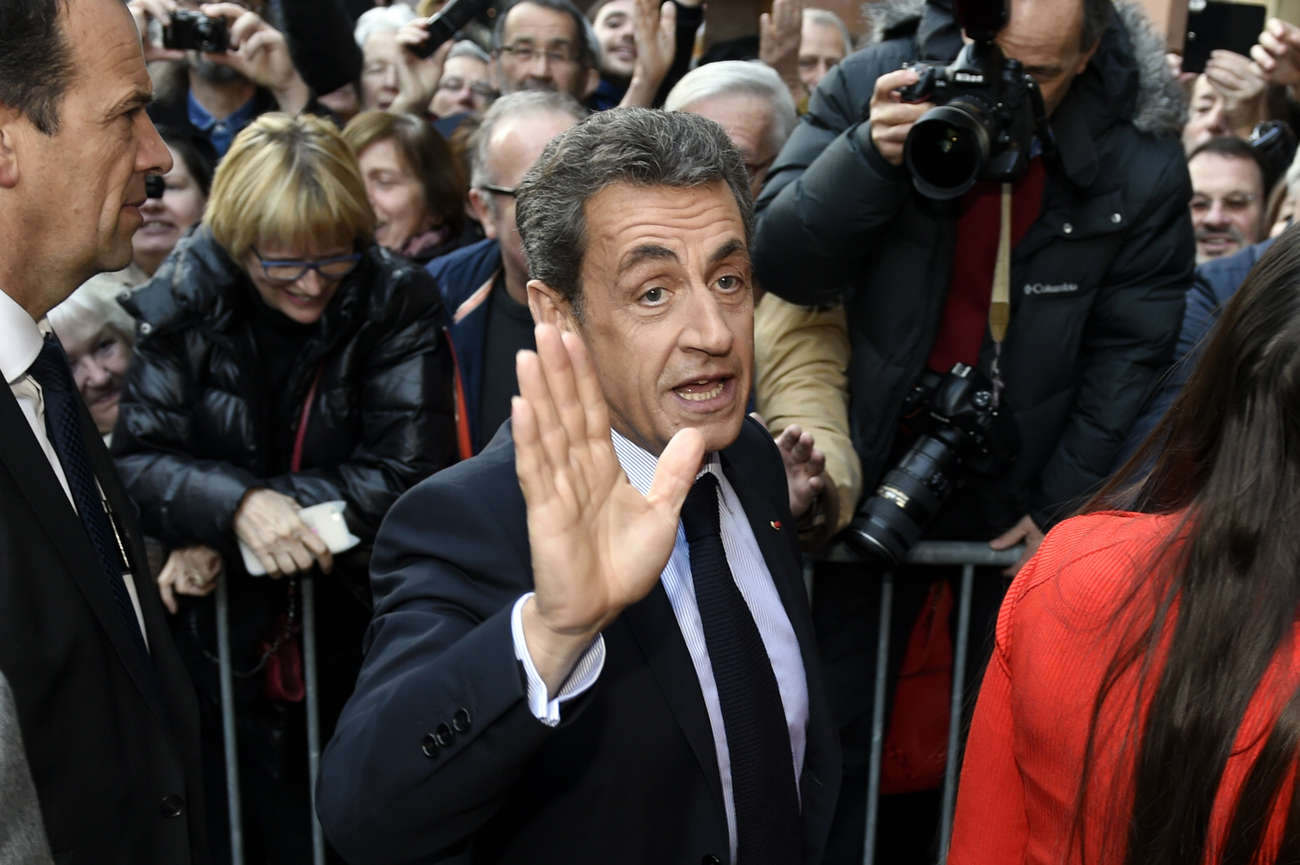 A national and even international media campaign, reflecting the influence exerted by the man himself. The entire press corps has chosen to open its columns, stages and microphones to the former president to mark the release of his book "Le temps des combats". Infodujour.fr tells you all about the passages missing from the 627-page book.
By Frédéric Crotta
Libya is, of course, mentioned in former President Sarkozy's voluminous book. But only to justify the intervention undertaken by the countries of "good" to depose Gaddafi, the dictator with a "disturbed mind". And to salute the "brilliant and faithful" BHL who, according to the author, is "far above many of those who claim to be 'intellectuals' without ever taking the risk of the slightest journey."
In front of the Paris Criminal Court
Not a word, however, about the minor problems encountered in Libya, which will bring the author and his friends before the 32ᵉ chamber of the Paris correctional court, from January 6 to April 10, 2025. The financial prosecutor's office having in fact decided to refer the former President for "illegal election campaign financing" and "criminal conspiracy". No less.
We can always give the benefit of the doubt to the author and his publisher: the court decision came just a few days after the book arrived in bookshops. But given the author's characteristic frankness, I have no hesitation in saying that, in due course, this news would have been the subject of a few extra pages.
For Nicolas Sarkozy, "Le temps des combats" is above all an opportunity to pay tribute to those closest to him, his inner circle, who have surrounded him since his arrival at the Élysée Palace. The former president excels in handing out good points, but also in tailoring suits. And of course, his inner circle is no exception.
Like "old friend" Brice Hortefeux, who didn't get dressed up for winter. We all know what the former mayor of Neuilly thinks of him. To replace Michèle Alliot Marie at the Ministry of the Interior – a casting error for the former President – he called on his loyal advisor and friend. While omitting to mention that he is also his companion in misfortune in the referral to the correctional court of the Libyan case.
Guéant : VIP Health Section
The same treatment applies to Claude Guéant, former Secretary General of the Élysée Palace and former Minister of the Interior. However, there's a serious caveat when it comes to expressing feelings about him.
It's out of the question to say anything good or bad about this character, who will also have to appear before judges again in connection with the Libya affair. It has to be said that he hasn't been much to write home about since he visited the VIP section of the Santé prison for a big-money affair involving cash bonuses from the Ministry of the Interior. His incarceration is definitive, having been validated by the French Supreme Court.
Nicolas Sarkozy's confession: Claude Guéant and Emmanuelle Mignon weren't exactly love at first sight. "She was very discreet about her emotions," Nicolas Sarkozy explains… This difficulty in opening up sometimes led to a certain brutality in her reactions. Her enmity with Claude Guéant was notorious, as were her leanings towards a right-wing ideology overly influenced by her deep religious convictions.
The only thing the two had in common was that they were in legal trouble over the same affair, the so-called Élysée polls. But there's no trace of this in the book. On January 22, 2022, Claude Guéant was sentenced to one year in prison, with four months suspended. As a result, he was sent straight to prison. Emmanuelle Mignon received only a six-month suspended sentence.
Not a single line for Patrick Buisson
If there's one person who doesn't feature at all in this book, it's another defendant in this affair: Patrick Buisson, who was given a two-year suspended prison sentence. Once considered a close advisor to President Sarkozy, Buisson doesn't seem to have made much of an impression on the author, who devotes not a single line to him.
Perhaps this was due to some resentment: the great thinker had a second job: as a sound engineer. Patrick Buisson used to record everything, including his meetings with the then President of the Republic. This understandably annoyed Nicolas Sarkozy, who appealed to his country's justice system. In 2014, Patrick Buisson was ordered to pay Nicolas and Carla 10,000 euros for invasion of privacy.
"The time of indictments"
Another Elysée figure has completely slipped from the author's memory. His name is Franck Supplisson. A former adviser to the Élysée Palace – he was also close to Christine Lagarde – the man went into business and industry. But the law seems to have remembered him. He is currently under investigation in several cases.
We would have liked to know a little more about him from the former President.
On September 12, Franck Supplisson should know his fate. He was tried before the Orléans Court of Appeal on charges of taking illegal interest, for which he faces a suspended prison sentence.
In view of all these people, a number of whom have had dealings with the courts, why doesn't Nicolas Sarkozy devote a new autobiographical volume to the aptly titled "Le temps des mises en examen"?
When contacted, Claude Guéant and Emmanuelle Mignon did not respond to our requests. Asked for his impressions, Franck Supplisson replied that he had not read the book.
https://frenchdailynews.com/politics/10775-what-you-wont-read-in-nicolas-sarkozys-le-temps-des-combats What you won't read in Nicolas Sarkozy's "Le Temps des combats"